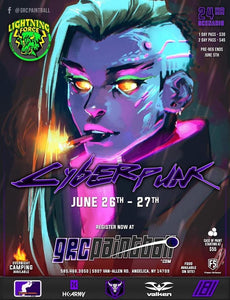 Cyber punk this weekend @ Grc Paintball
Come see us this weekend at Grc Paintball for the 2 day Cyberpunk event . We will have a pop up shop with new collections. This weekend's schedule! Register online for a chance to win a HK 68/4500 tank! Please share!!
June 26th:
9:00 am – General Meeting at Pavilion: All generals and XO's will need to attend to receive their packets.
10:00 am – Player Meeting at the Gallows: Please attend the meeting to review the rules and general information for the game.
10:45 am – First insertion, tag in at base for the start of the game.
11:00 – Game on!
4:00 – 5:00 – Dinner Break
5:00 – 7:00 – Game on!
7:00 – 8:00 – Final mission for the day
*Night Battle: We will be having nighttime battles under the lights in the village.
June 27th:
9:15 am: Quick player meeting.
9:45 am: Insertion to line up for the start of the game.
10:00 am – Game on!
2:00 pm – Prepare for Final Battle. Whistle will blow to signal this.
2:15 pm – Game on!! Final Battle!
2:45 pm – End of the game.
3:00 pm – Final scores, raffle, awards, etc.
---